| | |
| --- | --- |
| Alert | HOLIDAY CLOSURE – PRESIDENTS DAY – Feb. 15 – The Port of Vancouver USA, will be closed for receipt and delivery of cargo on Monday, February 15, 2016, in observance of Presidents Day. Vessel activity will not be interrupted. If you have any further questions, please call (360) 693-3611 |
Community
Helping Make SW Washington an Ideal Place to Live and Work.
The Port of Vancouver USA brings jobs and prosperity to Southwest Washington. Port property is developed for maritime trade and industrial businesses that provide living-wage jobs, revenue for local and regional public services and a vital connection to the international marketplace.
A part of the community for over 100 years, we understand that our neighbors have a vested interest in how the port operates and grows. Your comments and involvement are encouraged and appreciated. Get involved by attending regular commission or public meetings, taking port tours or visiting our website. You can also contact us to have a port representative attend your group's next meeting.
Your comments or questions are important to us. Email us or call us at 360-693-3611.
Port Role in the Community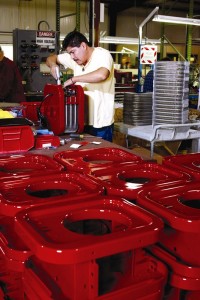 Jobs and the Economy
Port of Vancouver USA plays a key role in our local and regional economy. The port makes investments in our facilities and leverages these improvements with private investment and other funding to attract jobs and development in Vancouver. Port facilities are leased to customers and tenants that generate jobs, infuse business into the economy, contribute to state and local taxes and provide our region with access to the global marketplace.
Every four to five years, the Port of Vancouver USA commissions a study to measure our economic impact in Southwest Washington.  2014 was a record-breaking year for the port and it shows in the most recent economic study conducted by Martin Associates:
Total annual regional economic value of cargo handled at the port's marine terminals and revenue generated by the industrial tenants is $2.9 billion; a significant increase over the $1.6 billion of economic value generated in 2010.

Total jobs associated with port activities (including direct, indirect, induced and influenced jobs) equaled 20,202, up from 16,996 in 2010.

Of those, a total of 3,237 were directly generated by port marine and industrial activities, an increase from 2,337 in 2010.

The 3,237 jobs directly generated by port marine and industrial activities paid $159.2 million, up from $116.3 million in 2010.

Port business activities contributed $102.7 million in 2014 state and local taxes – an increase of 27 percent over 2010's $80.8 million. These contributions support public services such as police and fire protection.
Click here to read the Marine, Real Estate and Total Economic Impact Studies.