| | |
| --- | --- |
| Alert | Tariff Change Notification – The Port of Vancouver USA made adjustments to the port's Tariff No. 6 effective Jan 1, 2016. Click here to view changes. |
| | |
| --- | --- |
| Alert | HOLIDAY CLOSURE – THANKSGIVING, NOV. 26 & 27 – The Port of Vancouver USA will be closed for receipt and delivery of cargo on Thursday, Nov. 26 and Friday, Nov. 27 in observance of the Thanksgiving holiday. Vessel activity will be conducted as usual on Friday, Nov. 27, However, Thursday, Nov. 26 is an ILWU Non-Working Holiday. The administrative office will also be closed both days. |
Community
Helping Make SW Washington an Ideal Place to Live and Work.
The Port of Vancouver USA brings jobs and prosperity to Southwest Washington. Port property is developed for maritime trade and industrial businesses that provide living-wage jobs, revenue for local and regional public services and a vital connection to the international marketplace.
A part of the community for over 100 years, we understand that our neighbors have a vested interest in how the port operates and grows. Your comments and involvement are encouraged and appreciated. Get involved by attending regular commission or public meetings, taking port tours or visiting our website. You can also contact us to have a port representative attend your group's next meeting.
Your comments or questions are important to us. Email us or call us at 360-693-3611.
Port Role in the Community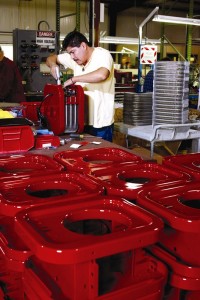 Jobs and the Economy
Port of Vancouver USA plays a key role in our local and regional economy. The port makes investments in our facilities and leverages these improvements with private investment and other funding to attract jobs and development in Vancouver. Port facilities are leased to customers and tenants that generate jobs, infuse business into the economy, contribute to state and local taxes and provide our region with access to the global marketplace.
Direct Employment
More than 2,300 people go to work each day directly for port businesses, earning an average salary of over $43,000—nearly $99 million in total annual personal income for port jobs. These are local jobs, with 75 percent of employees living in Clark County. The port hopes to add thousands of jobs within the next 15-20 years as additional maritime and industrial land is developed. 
Construction Jobs
The port's West Vancouver Freight Access rail project will generate over 4,000 construction jobs and more than $71 million in personal income over the life of the project, which is scheduled to be completed by 2017.
 Overall Economic Benefits
Over 15,500 jobs are related to maritime and industrial activities at the port. Some jobs are created by manufacturers sited on the port's industrial property. Others are related to the maritime and shipping industries. It is estimated that port activities inject $940 million into Clark County business revenue annually, with a total economic impact of $1.6 billion to our local and regional economy. 
Economic Studies
As a regional economic development engine, the Port of Vancouver participates in various studies. See below for several examples.
2011 Port of Vancouver economic impact studies measuring jobs, salary, tax generation and revenue
Transportation Studies
Port of Vancouver truck volumes and routes and travel times
Regional Studies
Port of Vancouver & Portland Trade Capacity study and commodity flow