Port staff and regional leaders thank Commissioner Oliver for 12 years of service
On December 10, Commission President Jerry Oliver presided over his final board meeting at the Port of Vancouver USA.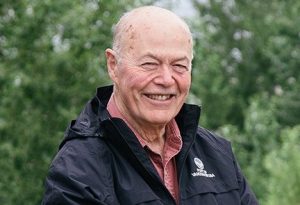 Commissioner Oliver was elected in 2007 and his leadership over the last 12 years helped to usher in a period of significant activity at the port.  He played a key role in the West Vancouver Freight Access (WVFA) project, the port's largest infrastructure undertaking to date, which expanded our rail system from 16 miles to nearly 50 miles of track.  Additional capital investments under his guidance include the 108-acre Centennial Industrial Park, Terminal 1 waterfront development project and expansion of the port's marine and industrial operations.  
Each of these efforts have attracted or retained employers and supported jobs in multiple sectors, including manufacturing, construction, transportation and hospitality. Over Commissioner Oliver's tenure, the port's annual economic impact in the region grew from $1.6 billion to $3.8 billion, and jobs at the port and our facilities have increased to nearly 4,000.
"I want to thank Jerry for his leadership and service that have produced incredible growth for Vancouver's port, and have increased opportunities for Southwest Washington businesses and families," said Congresswoman Jaime Herrera Beutler. "I hope this next season is full of adventure, rest, and fun memories for Jerry and his family."
Commissioner Oliver was recently honored for his accomplishments and contributions over the last 12 years with the Pacific Northwest Waterways Association's Distinguished Service Award and the Washington Public Ports Association's Honorary Lifetime Membership Award. 
"Jerry Oliver leaves an impressive legacy of leadership on port issues, and perhaps what has impressed me the most is his desire to work collaboratively in support of the port's economic development mission and goals," said Senator Annette Cleveland. "He has always been willing to listen to different perspectives, whether in agreement or opposition, and I hope he will be remembered and appreciated for that."
At a workshop following the meeting, staff was able to thank Commissioner Oliver for his leadership and support over the years.  "Commissioner Oliver has shown great passion and vision at the port during a time of tremendous growth," said CEO Julianna Marler.  "The team here is extremely appreciative of his dedication over the past several years and the Port of Vancouver, as well as the greater ports and maritime community in our region, have been lucky to have his service and expertise.  We wish him well in his next adventure."
Commissioner Oliver will officially end his term on Dec. 31, 2019, but we know that he will continue to show his leadership within the ports and maritime community in the future.  We look forward to seeing what his plans are next!