This Year's Port of Vancouver Commission Forum "Watch, Listen, Chat" a Success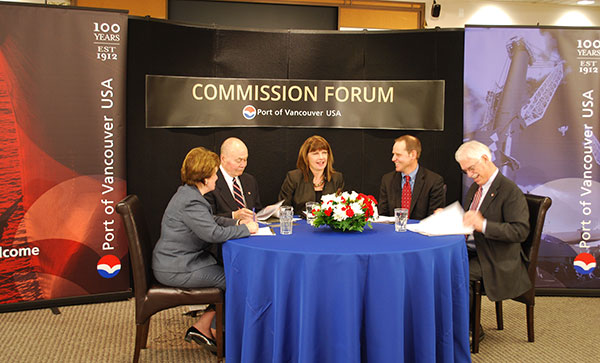 The Port of Vancouver commission held its annual Commission Forum on February 26, from 1 – 2 p.m. The CVTV production consisted of a round table discussion with the port's three commissioners, Jerry Oliver, Brian Wolfe and Nancy Baker. Port Executive Director Todd Coleman also discussed the port's plans to generate more jobs and attract trade and industry for Clark County. Lynn Valenter, Vice Chancellor for Finance and Operations at Washington State University-Vancouver, moderated the discussion on a review of 2012 cargo and earnings, the port's strategy to attract more jobs and business to Clark County and insights into how global trade efforts affect cargo here at home.
If you missed the Forum and would like an opportunity to learn more about why trade, industry and transportation mean jobs and economic health in Clark County, check here or visit CVTV's website for a replay schedule.  
Following the Forum, port Commission President Jerry Oliver and Todd Coleman hosted a live chat hosted by the Columbian newspaper. Those who participated in the live discussion were able to get their questions answered and learn more about the port's efforts to attract business and revenue to Southwest Washington. More information about the chat can be found here.
Your next opportunity to interact with port commissioners is during annual coffees hosted throughout the community. Watch for listings for a coffee house or venue near you.