Port Receives Grant for Bike/Pedestrian Path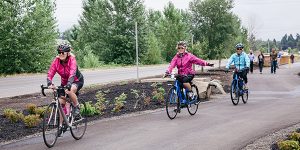 The popular bike and pedestrian path along Lower River Road will soon be expanding. In April, the port was awarded a grant in the amount of $175,000 from the Southwest Washington Regional Transportation Council for the design and planning of segment 5 of the trail. A grant for the design and planning of segment 4 was received in 2021. Both segments will be planned together and will stretch west of Farwest Steel on Lower River Road. The pathway is being completed in segments to address funding opportunities and the unique design needs specific to each segment.
The design for these segments is unique and includes wetland areas in segment 4, which will require a bridge to be built; and steep sloping in segment 5. These segments require permitting through the National Environmental Policy Act to ensure designs meet current guidelines for construction.
When fully complete, the pathway will extend 4.5 miles along Lower River Road. It is part of a countywide trail system that will eventually connect Steigerwald Lake National Wildlife Refuge in Washougal to the Columbia River Renaissance Trail and to Frenchman's Bar Regional Park in Vancouver.
Follow the Port of Vancouver on social media for future updates on the construction and opening of the new segments.