Study shows very low risk of derailment on new rail entrance (VIDEO)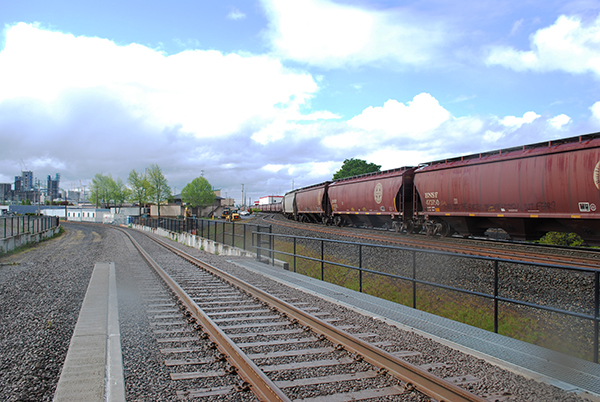 (VIDEO) VANCOUVER, Wash. – Representatives from a world-renowned rail safety organization told port commissioners today that based on extensive analysis of the port's rail infrastructure and the port's willingness to invest in additional safety enhancements, there is a very low potential for derailment of trains as they enter the Port of Vancouver USA.
TÜV Rheinland Rail Sciences, Inc.'s Chief Operating Officer Sebastian Oertel summarized their findings related to the port's rail project as "above and beyond what we see in the industry."
"Going above and beyond is how the port operates," said port Director of Economic Development and Facilities Curtis Shuck. "Regardless of what type of cargo is being transported, our priority is that trains move through our community without incident; and we're committed to doing everything we can to ensure that our rail system is unparalleled when it comes to safety."
Commissioned by the port and completed by TÜV Rheinland Rail Sciences, Inc., the study evaluated the derailment risk on approximately 3,000 feet of rail track exiting the BNSF Railway mainline and entering the port. This section of the port's West Vancouver Freight Access project is part of a new rail entrance to the port that, when complete in 2015, will reduce congestion on the regional rail system by as much as 40 percent. The track, with approximately half its length running parallel to the BNSF Railway mainline, also flanks the waterfront redevelopment project proposed by local developer Barry Cain.
The purpose of the study was two-fold. First, the port wanted a neutral, third-party safety evaluation of track that will serve as a significant portion of the port's main rail entrance beginning in 2015. Second, the port asked TÜV Rheinland to offer recommendations on additional steps that could be taken to make that section of track even safer.
"Our work does include analyzing why incidents happen, but our preferred focus is preventing derailments through design," said Jack Chislett, P.E., director of engineering applications for TÜV Rheinland. "That's what the port has asked us to do – provide an assessment and guidance on how they can reduce the likelihood and severity of derailments as much as possible on their project."
The firm ran multiple simulations using the tracks' geometry data, operating speeds and train data for three different types of trains: a grain train, an oil train and a potash train. Based on in-train force and vehicle dynamics analyses, the study found that the "proposed operation and track configuration is well within industry safety standards" with "a low risk of derailment."
The report also responds to the port's request for recommendations on what could be done to make that section of track even safer. The five possible safety enhancements identified by TÜV Rheinland, all of which the port plans to implement, include:
• Maintain track to a minimum Class 2 standard to reduce levels of allowable track deviation and the associated risks of local track perturbations over time.
• Install a high guard rail frog on #15 turnout and double guard rail on the connection track between #15 turnout and the BNSF overhead bridge and through the "Trench", to further lessen the potential for damage.
• Construct the track structure with new concrete or wooden ties, premium fasteners, and continuously welded 141 pound rail to maintain a robust and less dynamically varying track structure.
• Perform rail neutral temperature measurements during track construction to properly set track neutral temperature.
• Periodically measure track geometry to ensure safety against derailment as the track changes over time.
Construction of the safety enhancements will begin in the fourth quarter of 2014 and be complete in 2015, with an estimated cost of $500,000. The enhancements will be made by the port regardless of whether or not the oil terminal proposed by the port's long-term tenant Tesoro, in partnership with the logistics company Savage, moves forward.
Plans are also underway to conduct a similar assessment of the remainder of the port's West Vancouver Freight Access project.
Visit the port's website to view a complete copy of the port's Connection Track Train Operations Study.
– POV –
TÜV Rheinland Rail Sciences, Inc. is one of the rail industry's premier consulting firms specializing in the application of highly analytical skills to rail issues. With extensive experience with safety regulations and standards around the world, TÜV Rheinland experts help companies bring their railway operations into compliance with relevant requirements. Railroad testing services include programs for addressing all components of Railway Technology, including materials analysis, component evaluations, and failure analysis. The company's client base includes several of the major domestic freight railroads, short line, transit and passenger railroads, leading local and international suppliers, international railroads and government agencies.
The Port of Vancouver USA is one of the major ports on the Pacific Coast, and its competitive strengths include available land, versatile cargo handling capabilities, vast transportation networks, a skilled labor force and an exceptional level of service to its customers and community. For more information, please visit us at www.portvanusa.com.