Red Cross Blood Drive – April 15
Roll up your sleeves and help save lives!  Each pint of blood collected can help save up to three lives and will touch the lives of so many more.  What a great way to pay it forward and make an impact on people in our community and across the country.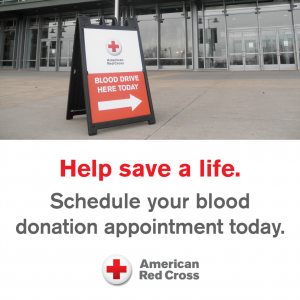 Most donations take about an hour, so book your appointment, roll up your sleeve and become a part of the lifesaving mission of the Red Cross and the Port of Vancouver. All blood donations will be tested for COVID-19 antibodies. Donors who have a successful donation will receive their COVID-19 antibody test results within 7 to 10 days of their donation through the Blood Donor App or donor portal at RedCrossBlood.org.
Date:               Thursday, April 15, 2021
Time:               9:00 am – 2:00 pm  
Location:       Port of Vancouver
                         Administration Building – Commission Room
                         3103 NW Lower River Road
                         Vancouver, WA 98660       
To schedule your appointment: 
Contact Betsy  brogers@portvanusa.com (360) 823-5289 or sign up online by visiting https://www.redcrossblood.org/give.html/drive-results?zipSponsor=portofvancouver
Want to get through the blood drive faster?
Visit www.redcrossblood.org/RapidPass on the day of the drive to complete your RapidPass.