Strategic Plan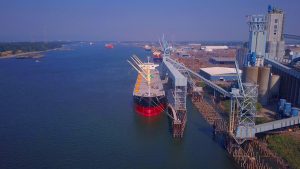 The Port of Vancouver USA is updating its strategic plan to provide vision and direction for the port today and in the future. The last comprehensive update to this plan was more than 10 years ago. Much has changed since then, including the completion of key initiatives; marine and industrial business growth; identification of new projects; and changes in staff and elected leadership.
The port is engaging with commissioners, staff, tenants, citizens, stakeholders and community partners to develop a plan that reflects the values and livability of our community; considers the needs of thousands of people who make their living through the port; emphasizes an ever-changing economic climate and local and international market opportunities; and observes the highest levels of environmental stewardship.  
Ultimately, the plan will provide a broad vision for the current and future direction of the port and clear guidelines for annual budget development.  The plan will also include annual goals, objectives strategies and metrics for charting and reporting on progress.
Strategic plan update process
In summer 2017 the port hired Maul Foster & Alongi (MFA) to assist us with the update. Together, the port and MFA have developed a thoughtful, comprehensive, data-based approach – an approach that includes listening to and gathering information from at least 100 organizations that are key to regional economic development and environmental health and vitality.
There are lots of ways to learn more and add your voice during this process, including public meetings and workshops, public open houses and general feedback. You can email us at communityfeedback@portvanusa.com, or send us a note at our administrative offices, 3103 NW Lower River Road, Vancouver, WA 98660. We also have comment cards available at our offices if you happen to be in the neighborhood.
Upcoming meetings
August 28, 9:30 a.m. – Regularly scheduled Board of Commissioners meeting; opportunity for public comment during open forum
September 11, 9:30 a.m. – Final plan presentation during regularly scheduled Board of Commissioners meeting; opportunity for public comment during action item
Timeline
August 14, 2018: Commission Workshop 7
August 2, 2018: Commission Workshop 6
June 12, 2018: Community Open House 2
May 23, 2018: Commission Workshop 5
May 17, 2018: Community Open House 1
April 2018: Advisory panel meetings
April 2018: Commission Workshop 4 – Discuss draft goals
February 2018: Commission Workshop 3 – Begin drafting goal topics
January 2018: Stakeholder interviews 
December 2017: Commission Workshop 2 – Strengths, Weaknesses Opportunities and Threats (SWOT) analyses
November 2017: Port staff work sessions – Strengths, Weaknesses Opportunities and Threats (SWOT) analyses
October 2017: Commission Workshop 1 – Roll out planning process with Maul Foster Alongi