Waterfront Project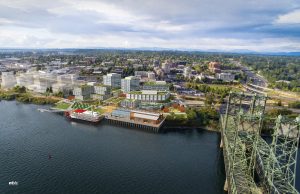 TERMINAL 1
Birthplace of the Port of Vancouver USA, Terminal 1 is poised for revitalization. Immediately adjacent to the Interstate 5 Bridge, the port's 10 acres on the Columbia River offer unparalleled opportunities for commercial development. This prime waterfront property adjoins a high-end commercial and residential development planned by Columbia Waterfront LLC, a new City of Vancouver Waterfront Park, and a vibrant downtown core. Terminal 1 could host such amenities as a public market, hotel, retail, commercial and community space.
Stay up-to-date with the latest Terminal 1 news by subscribing to our Waterfront Views newsletter:
Subscribe to Waterfront Views newsletter
Marketplace and Landscape Concepts 
Click on the links below for three different landscape architecture concepts for the entire Terminal 1 development. The carousel of photos shows three different concepts for the potential public marketplace.
Project Timeline
What's next
2018: AC Marriott Hotel starts construction
2018: Work begins on Renaissance Trail