Mike Bomar to join Port of Vancouver USA as Director of Economic Development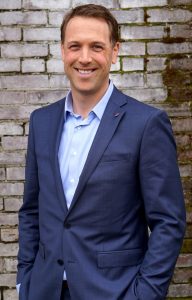 VANCOUVER, Wash. – The Port of Vancouver USA has hired Mike Bomar as its Director of Economic Development. Bomar joins the port May 1.
Bomar has been supporting growth and development in Southwest Washington for more than a decade. Prior to joining the port, he served as president of the Columbia River Economic Development Council, led the Southwest Washington Contractors Association and worked in government affairs for the Building Industry Association of Clark County.
"Mike brings a unique combination of skills and experience to the position of Director of Economic Development, including deep expertise and intuitive knowledge of our community," said port CEO Julianna Marler. "We're excited to have him join the port team and look forward to working together to cultivate our future as a premiere public port and a great community partner."
Bomar's responsibilities will include sustaining strategic partnerships with public, private and non-profit organizations, and developing economic opportunities that create jobs and enhance regional prosperity through commercial and industrial development, transportation planning and land use planning.
Bomar holds a bachelor's degree in Political Science and Communications from the University of Washington and a master's degree in Public Affairs from Washington State University Vancouver.
– POV –
The Port of Vancouver USA is one of the major ports on the Pacific Coast, and its competitive strengths include available land, versatile cargo handling capabilities, vast transportation networks, a skilled labor force and an exceptional level of service to its customers and community. For more information, please visit us at www.portvanusa.com.