Port Commission Shares a Review of 2012 During Annual Forum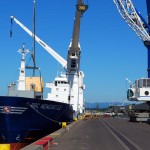 As part of this year's Commission Forum, port officials shared a review of port performance in 2012, including a look back on port revenue generation. Following on the heels of an exceptional year in 2011, port revenue continued to follow an upward trend established over the past decade. Although a 12 percent decrease from 2011, revenues of $32.5 million in 2012 exceeded totals for 2009 and 2010 by 7.8 percent and six percent respectively.
Also presented during the forum was a summary of port cargoes in 2012. Discussed was an 18.5 percent decrease in overall port cargo tonnage, due primarily to less wheat being handled at the port's grain facility. A growing number of grain elevators operating within the Columbia Snake River System and more wheat being exported from other countries such as Russia and Australia contributed to the one million metric ton decrease in U.S. wheat exports handled at the Port of Vancouver as compared to 2011. Other exports such as wood pulp also decreased in 2012 from 2011, while bulk minerals such as bentonite clay and copper concentrate and liquid bulks such as jet fuel increased.
Overall imports in 2012 also were down from 2011, with wood pulp and wind energy components accounting for most of the 13 percent decline. Following the port's best year ever for wind energy cargo in 2011, the 55 percent decrease in 2012 can be traced directly to delays in extending the federal production tax credit for wind energy. Balancing the declining cargoes, imports such as steel and jet fuel saw significant increases.
On a more positive note, the port's industrial sector recorded an exceptional year. Several new businesses, including Brewcraft USA, Keller Supply Co., Sigma GC/Mateen and Trobella Cabinetry, were added to the port's tenant list, bringing the port's occupancy rate up to an impressive 99 percent. To address the need for additional space, the port began development of the first 58 acres of its new Centennial Industrial Park in 2012 thanks to a $5.7 million grant from Washington State's Department of Commerce Jobs Now Act. The shovel-ready property is expected to host its first tenant in early 2014.