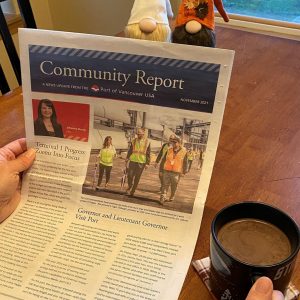 The biannual Community Report newsletter is printed and mailed to all property owners in the port district and is an invaluable tool for raising awareness about the port and activities.
Read our latest Community Report. Issued twice a year, the Community Report is an update on news and happenings at the Port of Vancouver USA.  Stories in this issue include a progress report on Terminal 1, visit from Gov. Jay Inslee to view wind blades at the port, update on implementation of our Climate Action Plan, and a unique program to grow vegetables for the local food bank by port tenant Hawthorne Gardening Company. 
Read the full issue here. 
Download Resource PDFNovember 19, 2021