Port Taps Regional Expertise in Marine Safety and Oil Spill Response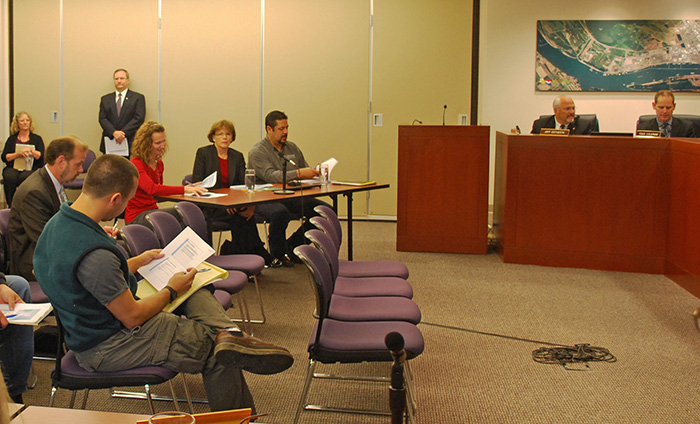 Wanting a greater understanding of emergency response capabilities on the Columbia River, the Port of Vancouver USA invited Liz Wainwright, executive director of the Maritime Fire and Safety Association (MFSA); Holly Robinson, MFSA preparedness, response and compliance coordinator; and Ernie Quesada, general manager of Clean Rivers Cooperative, Inc. to a commission workshop held immediately following the May 14 board of commissioners meeting.
The workshop focused on the extensive resources and years of experience related to the safe transit of vessels on the Columbia and Willamette Rivers thanks to the organizations' collaborative efforts. Individually, each organization serves its own distinct purpose, yet when brought together, they provide for enhanced response and preparedness efforts that far exceed regulatory expectations along the river system.
The topic and timing of the commission workshop were in direct response to the recent proposal by the port's longtime tenant Tesoro to handle North American crude oil at the port. Workshops are held regularly to provide information to the port's three commissioners and are open to the public.
The Maritime Fire and Safety Association is a not-for-profit membership association established in 1983 and is made up of public ports, private terminals and the Columbia River Steamship Operators Association (CRSOA). The Port of Vancouver has been an active member of the MFSA since 1984.
The organization formed following a tragic fire aboard the M.V. Protector Alpha in Kalama in 1982, which resulted in the death of a Coast Guardsman and the serious injury of a local firefighter. This sparked conversations about the need for greater preparedness in case of another emergency. Today, MFSA promotes safety, fire protection and enhanced navigation on the Lower Columbia and Willamette Rivers. Originally formed to train and equip land-based firefighters for facility and vessel firefighting response, MFSA has expanded to include a robust oil spill response program for all self-propelled vessels of 300 GRT or greater as well as barges carrying petroleum products as cargo on the two rivers and has established a powerful emergency response communications system among the parties.
Founded in 1971, Clean Rivers Cooperative, Inc. is also a not-for-profit membership association. Clean Rivers acts as an oil spill response organization (OSRO) by providing aid to a variety of member companies whose facilities handle oil on the Columbia and Willamette rivers. Membership has grown to 23 companies from the petroleum, shipping and wood products industries following the passing of the federal Oil Pollution Act of 1991 and 1992. Port of Vancouver tenants NuStar Energy, Inc., Olympic Pipeline Co., Kinder Morgan Energy Partners, and Tesoro Refining and Marketing are Clean Rivers Cooperative members.
In 1992, MFSA, Clean Rivers and Columbia River Steamship Operators Association created a partnership to share expenses and resources to provide spill response coverage for the Lower Columbia and Willamette Rivers. Merchants Exchange acts as the general service contractor, providing administrative services. Funding comes from Clean Rivers' members and from the vessels themselves, as each vessel carrying cargo on the Columbia River pays a fee to MFSA, price depending on the commodity being handled. These funds go towards the purchase of oil spill response equipment, training of personnel, payment of dedicated spill response contractors and program administration. As a result of this partnership, the Columbia River is the only river system in the country that has one unified response system in place. In addition, $4.1 million in equipment and the ability to train and pool resources is evidence of a successful partnership.
Port General Manager of Operations Mike Schiller, who has been an MFSA board member for more than 10 years, made introductory comments prior to the workshop presentation, and both the commissioners and the general public were able to ask questions following the presentation.
Additional commission workshops are planned on topics such as the environmental permitting process for the proposed liquid bulk handling facility and rail safety. Interested parties are encouraged to regularly check the port's website for specific scheduling information. Click to view CVTV's taping of the May 14 workshop or to read the The Columbian article "Port crafts response in case of oil spill."