Workshops on crude oil draw large crowd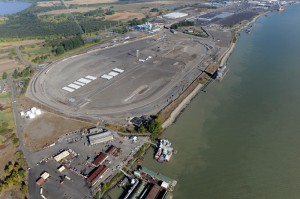 The extra chairs set out to accommodate interested community members came in handy Thursday, June 27, as the Port of Vancouver Board of Commissioners hosted two workshops related to a proposed crude oil facility. Approximately 50 people listened in as commissioners were updated on issues related to plans by longtime port tenant Tesoro to expand liquid bulk handling capabilities at the port. In a joint venture with the logistics company Savage, Tesoro is proposing to bring North American crude oil to the port by rail where it would then be transferred to marine vessels for transport to refineries in such places as California, Washington and Alaska.
WORKSHOP: Energy Facility Site Evaluation Council
The first workshop provided an overview of the environmental permitting process associated with the proposed facility. As with every potential tenant, the Tesoro-Savage Joint Venture is required to obtain all necessary environmental permits for the proposed facility as a condition of operation at the port. With the State of Washington's Energy Facility Site Evaluation Council (EFSEC) acting as lead permitting agency for local and state permits, the companies would be required to work through an extensive process, addressing local, state and federal requirements.
Jim Luce, chair of EFSEC, was on hand to provide information to the commissioners on EFSEC's history, purpose and process. Chairman Luce also shared that the opportunity for public comment was not only a significant part of the EFSEC process, but that it was "encouraged and expected." Click to view Mr. Luce's Presentation.
WORKSHOP: Facility Overview
Presented by representatives from the Tesoro-Savage Joint Venture, the morning's second workshop offered a look at market demands for North American crude oil, a description of the proposed facility, and an introduction to the corporate values and operating principals of both companies. According to the Tesoro-Savage team, the project would include a rail unloading rack; six storage tanks, each capable of holding 375,000 barrels; and a vessel loading operation. The facility would be designed to handle an estimated initial volume of 120,000 barrels per day (bpd) with potential near-term expansion capability to 280,000 bpd. However, the facility would be permitted to handle up to 360,000 bpd to provide for possible future expansion. The project represents approximately $75 – $100 million in private-sector investment, and would create 250 temporary construction jobs and between 80 and 120 permanent, full-time jobs. Click to view the Tesoro-Savage Joint Venture presentation.
Following the workshops, community members voiced their opinions, asked questions and shared their concerns with the commissioners. The June 27 workshops are part of a series aimed at providing information to the commissioners as they prepare to consider a lease with the Tesoro-Savage Joint Venture. It is anticipated that the proposed lease will come before the commissioners in July of this year. Earlier workshops include the May 14 workshop on Marine Safety and Oil Spill Response and the June 11 workshop on Rail Safety and Oil Spill Response. A final workshop is tentatively planned for July 9, during which the proposed lease between the port and the Tesoro-Savage Joint Venture will be reviewed and discussed. As always, commission workshops are open to the public, and interested parties are welcome to attend.
For those not able to attend Thursday's meeting, the workshops were televised live on CVTV (cable channel 21) and streamed live on www.cvtv.org. Click to view the June 27 workshops.