| | |
| --- | --- |
| Alert | HOLIDAY CLOSURE – PRESIDENTS DAY – Feb. 15 – The Port of Vancouver USA, will be closed for receipt and delivery of cargo on Monday, February 15, 2016, in observance of Presidents Day. Vessel activity will not be interrupted. If you have any further questions, please call (360) 693-3611 |
Commission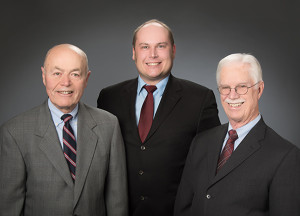 Since 1912, 34 individuals have served as commissioners at the Port of Vancouver USA. Each made contributions that have collectively molded and shaped the port's role in our community today.
Over the last 100 years, citizens of Clark County have selected port commissioners with a strong commitment to making decisions in the vested interest of the people they represent. The port district is divided into three commission districts, each with an elected official.
Today, Port of Vancouver Commissioners Jerry Oliver, Brian Wolfe and Eric LaBrant represent the citizens of Clark County.
They are each elected to six-year terms and are responsible for setting policy for the port as a public agency. Commissioners work part-time and can be reached at their home phone number by calling our front desk at 360.693.3611 for contact information.
Todd Coleman, as port chief executive officer, manages a staff of more than 100 people involved in day-to-day port operations. Coleman reports directly to the port's three commissioners.
Bios
The Port of Vancouver USA has a three-member Board of Commissioners that sets policy and direction, and approves all major expenditures. Their responsibilities include appointing major administrative staff, which includes the CEO, the port auditor and legal counsel. Commissioners are elected to six-year terms of office by the voters in three port districts. Port commission meetings are open to the public and are normally held on the second and fourth Tuesdays of each month beginning at 9:30 a.m. at the administrative office of the Port of Vancouver.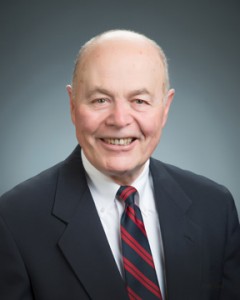 Jerry Oliver

Commission President
Jerry Oliver was elected to the Port of Vancouver Board of Commissioners in 2007. Mr. Oliver was born and raised in Flint, MI, and holds a bachelor's degree in economics from the University of Michigan. His career includes 20 years in the medical products distribution business as well as seven years in the financial brokerage business. Mr. Oliver also was self-employed for eight years when he worked in mid-market mergers and acquisitions. He retired from business in 2008.
Mr. Oliver currently serves as an alternate delegate for the American Association of Port Authorities (AAPA), a member of the Executive Committee of the Washington Public Ports Association (WPPA), a trustee on the Legislative Committee of the Washington Public Ports Association (WPPA), an alternate delegate for the Regional Transportation Council and as a delegate with the International Air Service Committee.
Mr. Oliver and his wife of 50 years, Joan, have two adult daughters and six grandchildren. He is an ardent hunter, fisherman and backpacker and has been active with various conservation organizations and in his church, where he has served in a variety of capacities over the years.
Mr. Oliver is a strong proponent of limited taxation and sustainable economic development. Mr. Oliver represents the Port of Vancouver's District 3, and his current term expires December 31, 2019.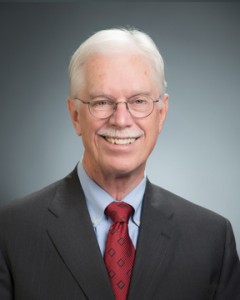 Brian Wolfe

Commission Vice President
Brian Wolfe was elected to the Port of Vancouver Board of Commissioners in 2005. He also serves on the executive committee of the Columbia River Economic Development Council (CREDC), an organization he helped create, and served as chairman of its board of directors from 1983-1994.
Mr. Wolfe operates his own legal practice in Vancouver and has more than 40 years of experience as an attorney. He serves on the General Advisory Committee of the Clark County Skills Center, the Vancouver Food Cooperative Board and on the Board of Directors of the Southwest Washington Community Land Trust. In addition, he has held leadership positions with the Greater Vancouver Chamber of Commerce, Leadership Clark County, the Clark County Social Services Administration, Identity Clark County, the Vancouver Dawn Lions Club and the Columbia River Education and Workforce Council (CREWC).
Mr. Wolfe holds a B.S. from Whitworth University in Spokane and earned his doctor of jurisprudence degree from Willamette University in Salem. Mr. Wolfe represents the Port of Vancouver's District 1, and his current term expires December 31, 2017.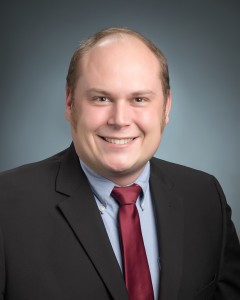 Eric LaBrant

Commission Secretary
Eric LaBrant was elected in 2015, underscoring the Port of Vancouver's strong relationship with the nearby Fruit Valley neighborhood. He has presided over the Fruit Valley Neighborhood Association since 2011.
Mr. LaBrant collaborated with the port through the Vancouver Lake Watershed Partnership, and mentors student teams with the Washington State University Vancouver Business Growth Mentor and Analysis Program, which provides business students the opportunity to assist local companies. Mr. LaBrant has worked in the collections and accounts receivable field since 2003. In addition to his position on the Port of Vancouver Board of Commissioners, he currently works for a global logistics provider.
Mr. LaBrant graduated from Fort Vancouver High School and earned his Bachelor of Science in Business Management from Western Governors University in 2015. A native of the Vancouver/Portland area, he enjoys hiking with his two children in Gifford Pinchot National Forest and the Columbia Gorge, and rowing on Vancouver Lake. He strongly supports infrastructure investments and sustainable policies that promote Vancouver's competitive advantages including livability, education and environmental stewardship.
Mr. LaBrant represents the Port of Vancouver's District 2, and his term expires December 31, 2021.