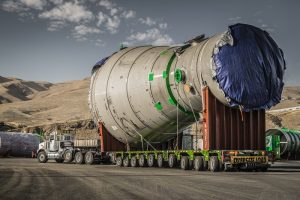 Why a High, Wide and Heavy Corridor?
There will be continued demand to deliver high, wide and heavy loads to inland destinations from Columbia River ports. Each year, our region loses significant business opportunities and shippers lose time and money because infrastructure constraints prevent the movement of these loads, which can include components for wind energy and infrastructure, and other large equipment and machinery needed to expand or maintain our roads and power grid. As demand for oversize cargoes grows and the cargoes themselves increase in size, the ability to move them through our region is critical to our economic health. A safe and effective high, wide and heavy corridor provides shippers and local businesses the certainty they need to reliably move their products to market and continue contributing to our economy.
Working Together to Establish a Corridor
We've developed a High, Wide and Heavy Corridor Coalition that is teaming with local businesses, communities and government agencies to develop a corridor that can support the movement of these cargoes with minimal impact to regional communities and infrastructure. Coalition members are implementing an action plan to establish and develop a high, wide and heavy corridor from the Columbia River to Western and Midwestern North America.
The Columbia River High, Wide and Heavy Corridor can provide opportunity and certainty to shippers and local businesses looking to efficiently move cargo from Columbia River ports to inland destinations. Learn more about the High, Wide and Heavy Corridor by visiting our website or downloading our brochure.
For questions regarding the High, Wide & Heavy Corridor, please contact pov-sales@portvanusa.com or 360-693-3611