Community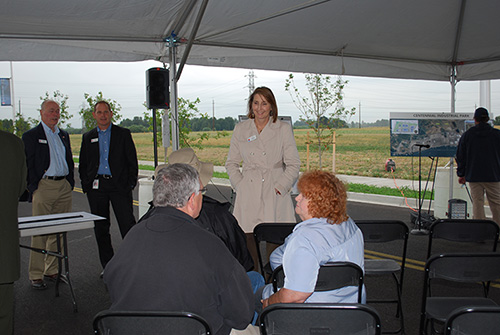 Helping Make SW Washington an Ideal Place to Live and Work.
The Port of Vancouver USA brings jobs and prosperity to Southwest Washington. Port property is developed for maritime trade and industrial businesses that provide living-wage jobs, revenue for local and regional public services and a vital connection to the international marketplace.
A part of the community for over 100 years, we understand that our neighbors have a vested interest in how the port operates and grows. Your comments and involvement are encouraged and appreciated. Get involved by attending regular commission or public meetings, taking port tours or visiting our website. You can also contact us to have a port representative attend your group's next meeting.
Your comments or questions are important to us. Email us or call us at 360-693-3611.
Year in Review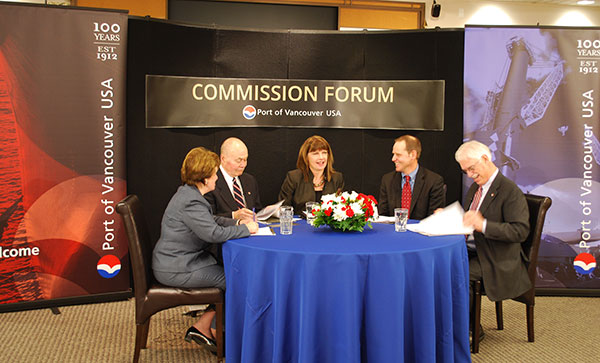 The Port of Vancouver USA has earned a reputation in the global marketplace for efficient handling of niche cargo through modern facilities, excellent labor relations and quality logistics operations while performing a leadership role in the economic development of the Southwest Washington region. The port's location at the crossroads of ocean-bound and river shipping lanes, interstate highways, and national rail lines is one of its strongest attributes.
 2012 In Review
Revenue Remains Strong
Following on the heels of an exceptional year in 2011, port revenue continued to follow an upward trend established over the past decade. Although a 12 percent decrease from 2011, port revenues of $32.5 million in 2012 exceeded totals for 2009 and 2010 by 7.8 percent and six percent respectively. The port will continue to invest these critical funds in port infrastructure projects that leverage private investment and create jobs for our community. One such project is the port's ongoing West Vancouver Freight Access rail project, now 50 percent complete, that is expected to attract more than $400 million in private sector investment and create 1,000 new, permanent jobs and 4,000 construction jobs.
 Operating Income (12% decrease over 2011)
2012 – $32,561,000
2011 – $37,015,000
2010 – $31,317,000
 Poised for Strong Growth in Exports
Although total cargo tonnage for 2012 was down from 2011, the port's capacity to handle a growing variety of cargoes is increasing significantly. From rail improvements that will more than triple the number of rail cars the port can handle annually to the 50 percent increase in storage at the port's grain facility, the port has positioned itself well for growth as the world economy continues to recover.
 However, an increase in the number of grain elevators on the Columbia Snake River System, and an increase in agricultural exports from countries such as Australia resulted in less wheat moving across Port of Vancouver docks in 2012. And because wheat is the port's number one export by volume, the decrease in wheat exports is directly reflected in the 18.5 percent decrease in the port's overall tonnage from 2011. Other port exports such as bentonite clay, copper concentrate and jet fuel increased, while wind energy components and wood pulp decreased.
 Total Cargo Tonnage (18.5% decrease from 2011)
2012 – 4,554,304 metric tons
2011 – 5,575,804 metric tons
2010 – 5,679,726 metric tons
 Overall Exports (19.4% decrease from 2011)
2012 – 3,879,982 metric tons
2011 – 4,805,000 metric tons
2010 – 4,856,000 metric tons
 Copper Exports (24.4 % increase over 2011)
2012 – 419,782 metric tons
2011 – 337,547 metric tons
2010 – 373,019 metric tons
 Bentonite Clay Exports (3 % increase over 2011)
2012 – 145,606metric tons
2011 – 141,019 metric tons
2010 – 155,890 metric tons
 Jet Fuel Exports (340.4 % increase over 2011)
2012 – 37,185
2011 – 8,444
2010 – 34,671
 Wheat Exports (27% decrease from 2011)
2012 – 2.6 million metric tons
2011 – 3.6 million metric tons
2010 – 3.7 million metric tons
 Pulp Exports (89.8% decrease over 2011)
2012 – 5,239 metric tons
2011 – 51,266 metric tons
2010 – 41,111 metric tons
 Scrap Metal Exports (3% decrease over 2011)
2012 – 538,078 metric tons
2011 – 554,507 metric tons
2010 – 464,043 metric tons
Diversity in Marine Cargoes Provides Stability
Thanks to infrastructure investments and innovative marketing efforts at the Port of Vancouver, overall import trends remained relatively steady in 2012. Imports such as steel and jet fuel saw significant increases, while the 13 percent decrease in total imports was due primarily to less wood pulp and fewer wind energy components being handled by the port. With 2011 being the port's best year ever for wind energy cargo, the dramatic 55 percent decrease in wind energy cargo can be traced directly to delays in extending the federal production tax credit program.
 Overall Imports (13.1% decrease from 2011)
2012 – 674322 metric tons
2011 – 770,170 metric tons
2010 – 823,437 metric tons
 Steel Imports (21.8% increase over 2011)
2012 – 165,304 metric tons
2011 – 135,687 metric tons
2010 – 101,370 metric tons
 Jet Fuel Imports (100.3 % increase over 2011)
2012 – 81,581
2011 – 40,734
2010 – 92,777
 Wind Energy Imports (55% decrease over 2011)
2012 – 47,876 metric tons
2011 – 106,182 metric tons
2010 – 25,240 metric tons
 Pulp Imports (44.7% decrease over 2011)
2012 – 55,888 metric tons
2011- 101,073 metric tons
2010 – 61,490 metric tons
 Subaru America, Inc. Imports (7.4% decrease from 2011)
2012 – 46,084 vehicles
2011 – 49,356 vehicles
2010 – 59,184 vehicles
 Vessel Calls (23% decrease over 2011)
2012 – 351
2011 – 456
2010 – 405
 Industrial Sector Records Exceptional Year
The port welcomed several new businesses, Brewcraft USA, Keller Supply Co., Sigma GC/Mateen and Trobella Cabinetry, to its tenant roster in 2012. These additions brought the port's occupancy rate up to an impressive 99 percent. To address the need for additional space, the port began development of the first 58 acres of its new Centennial Industrial Park thanks to a $5.7 million grant from Washington State's Department of Commerce Jobs Now Act 2012. The shovel-ready property is expected to host its first tenant in early 2014. Overall, marine and industrial businesses at the port employ an estimated 2,300 people and generate approximately $1.6 billion in economic benefit to the region annually.
 Environmental Milestones Reached
The port, together with Clark County Wetland Mitigation Partners, LLC, celebrated major construction milestones on the 154-acre Columbia River Wetland Mitigation Bank in 2012. With final planting occurring in early 2013, the bank is already providing a highly effective way to preserve valuable habitat while ensuring responsible development. Also in 2012, the port marked the successful cleanup of 4.4 billion gallons of water as part of the multi-year Fruit Valley Groundwater Cleanup effort. Of special note was the removal of the remaining groundwater treatment wells, as the Washington State Department of Ecology (Ecology) determined that they were no longer necessary thanks to the port's successful "pump and treat" system. The port also received two grants from the Ecology totaling over $600,000 for stormwater quality improvement projects at port terminals. And finally, the port continued its purchase of Renewable Energy Certificates, equal to 100 percent of the port's electrical consumption for the second year in a row.
Looking for more information?