| | |
| --- | --- |
| Alert | HOLIDAY CLOSURE – PRESIDENTS DAY – Feb. 15 – The Port of Vancouver USA, will be closed for receipt and delivery of cargo on Monday, February 15, 2016, in observance of Presidents Day. Vessel activity will not be interrupted. If you have any further questions, please call (360) 693-3611 |
Marine
Capacity, Access and Accommodation.
 The Port of Vancouver USA's five terminals and 13 berths lie at the terminus of the Columbia River's 43-foot, deep-draft shipping channel, creating an international transportation gateway. Two major North American railroad lines converge here. Primary freight arterials of the U.S. Interstate Highway network run north, east and south. 610,000 square feet of waterfront warehousing means ample storage space for cargo. Two Liebherr mobile harbor cranes—each with a lift capacity of 140 metric tons—make us the West Coast experts in break bulk and heavy lift cargo. And topping it off? Our exceptional customer service, including relationships with key resources in the logistics chain, helps us meet your shipping requirements with smart, fast, efficient and safe solutions. 
Security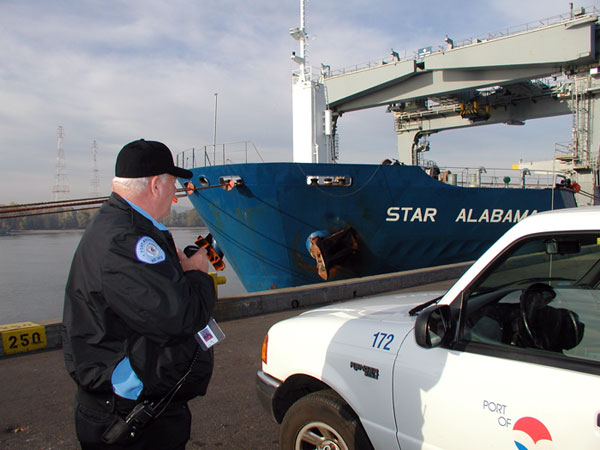 The Port of Vancouver USA promotes safe and secure facilities within which to conduct business. The port's security program is designed to protect the port's marine and industrial facilities. We coordinate closely with the U.S. Coast Guard, Customs and Border Protection, and Department of Homeland Security, as well as state, county and local law enforcement, to ensure there are protective measures in place throughout the port, on both water and land.
Access to the port's marine terminals is allowed only through the main security gate at the 26th Avenue overpass. The port's security plan and policies require that all people entering the port's terminal areas show photo identification and have a valid business purpose to be on the facility. This is accomplished through the port's screening process, administered to anyone who enters the port's marine terminals. In addition, this area is secured with fencing, video camera monitors and 24/7 stationary and mobile patrols. 
Several port tenant businesses also have their own security programs, including United Grain Corporation, NuStar Energy, Kinder Morgan, Tesoro and Subaru. 
Transportation Worker Identification Credential
All personnel who perform work (including contractors and consultants) within our maritime facility are required to have a Transportation Worker Identification Credential (TWIC) in order to perform their duties unescorted. This program was established by Congress and is administered by the Transportation Security Agency and the United States Coast Guard. In order to enroll for a TWIC or for information and guidance, please go to www.tsa.gov/twic.