| | |
| --- | --- |
| Alert | HOLIDAY CLOSURE – PRESIDENTS DAY – Feb. 15 – The Port of Vancouver USA, will be closed for receipt and delivery of cargo on Monday, February 15, 2016, in observance of Presidents Day. Vessel activity will not be interrupted. If you have any further questions, please call (360) 693-3611 |
About
Port of Vancouver USA is an economic engine for the entire Southwest Washington region. The port provides quality jobs, international trade connections, a strong industrial land base and economic stability by producing revenue to our state and local services.
Through the Columbia River and efficient national rail and road systems, the port connects our community to the global marketplace—a key factor in bringing community prosperity to Clark County.
Job Center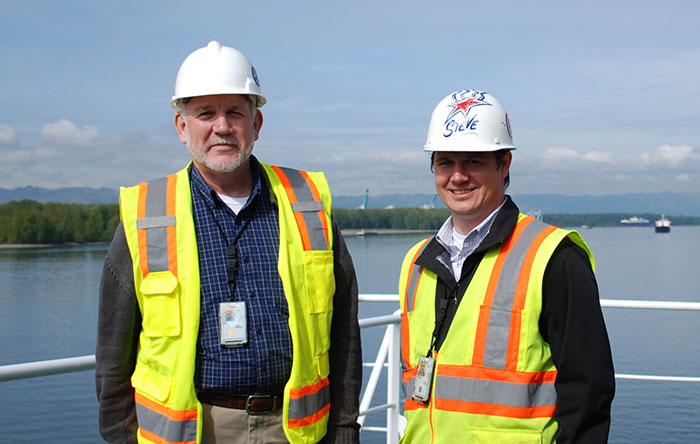 The Port of Vancouver is a multi-purpose port authority located in Vancouver, WA, along the banks of the Columbia River. The port has handled a variety of bulk and breakbulk cargoes since 1912. We have versatile cargo-handling facilities, a skilled labor force, personal customer service, and extensive transportation networks. The port maintains a convenient hub of marine, rail, highway and air cargo transportation connections along with more than 600 acres for further expansion and development.  The port enjoys a culture that is fast-paced and participative. We value teamwork, creativity and customer service.
Open Positions
Although more than 3,200 people are directly employed by businesses at the port, just over 100 people are directly employed by the Port of Vancouver. Jobs posted here are for direct positions with the port in the areas of administration, maintenance or security.
The work on the waterfront is performed by the International Longshore and Warehouse Union (ILWU) Local #4. Port tenants hire their own workforce.
The Port of Vancouver has the following open positions:
How to Apply
To apply for a job opening at the Port of Vancouver please click on the job title(s) above. If there are no job titles listed, the port is not accepting applications. If you have any questions email the port at jobs@portvanusa.com.