Just Delivered! Community Report, fall edition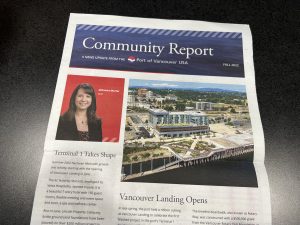 The biannual Community Report newsletter is printed and mailed to all property owners in the port district and is an invaluable tool for raising awareness about the port and activities.
Read our latest Community Report. Issued twice a year, the Community Report is an update on news and happenings at the Port of Vancouver.  Stories in this issue include a feature on port tenant, Trobella, update on port redistricting, follow up on our summer intern program, feature on the Vancouver Landing, and more!