Vancouver Landing Now Open to the Public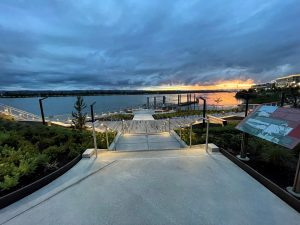 The Port of Vancouver USA held a ribbon cutting earlier this month to unveil the new Vancouver Landing, the first finished public project in the port's Terminal 1 development. Guests of the event included local elected officials, port stakeholders and staff who were able to view many of the unique features of Vancouver Landing, including dramatic riverfront vistas, a boardwalk timeline of historic events, new section of the Renaissance Trail, interpretive panels and an embedded map of the Columbia River.
The interpretive panels, which are found along the riverside fencing is a series displays that highlight the history of Vancouver and Clark County and the Indigenous Peoples who inhabited the area, along with other features of local significance. Port project managers worked closely with local Native American Tribes to accurately reflect the history of the site.
The entire Terminal 1 project development plan has been designated a LEED Gold Neighborhood Development (ND) by the US Green Building Council (USGBC), including Vancouver Landing. Features that support the LEED Gold award include pedestrian systems to encourage cycling and walking, avoiding motorized vehicles; landscaping that includes native plantings, allowing stormwater to filter through the vegetation and lighting that is installed to minimize impacts on wildlife and light pollution.
Specific sustainable features of the Vancouver Landing project include the use of sustainable materials, including Geofoam, a ground stabilization product that is free of toxic chemicals, such as formaldehyde. Another feature is the landing boardwalk, which is constructed with Thermory, a decking material that is sustainably harvested from North American timberlands and not tropical rainforests. Catenary lighting (lighting fastened to rope, chain or cable at the ground level) has been installed along Daniels Way, providing illumination for safety, while reducing light spill and energy consumption.
The Vancouver Landing is now open to the public and provides a pleasant space at the waterfront to sit and view the river or to learn about the history of the area through the public artifacts on display. The port welcomes the public to visit the landing and experience it for themselves.