Decommissioning Monitoring Wells to Protect Groundwater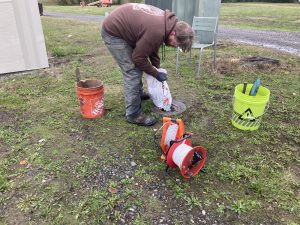 This November, 132 groundwater monitoring wells were decommissioned on port property. These wells originally were drilled to clean up and monitor pollution released decades ago by a company that once occupied what is now port property. Although this contamination occurred years before the port owned the property, cleanup efforts have been a priority for the port. Cleanup actions have been so successful that the wells are no longer needed.
The port worked with the Washington Department of Ecology to gain approval to have the wells decommissioned and over three rainy days, the work was completed. Properly decommissioning unused wells is considered best practices once the wells are no longer needed to protect groundwater. The process of decommissioning includes filling the well with hydrated bentonite chips and filling the last foot to the surface with concrete to eliminate any pathway from the ground surface to the groundwater.
The port is committed to protecting its groundwater and continues to utilize groundwater monitoring wells to monitor the progress of cleanups. Check out the port's Environmental Management System (EMS) for more information on our commitment to water quality.