Harmony in Flight: The Triumph of the Purple Martin Habitat Program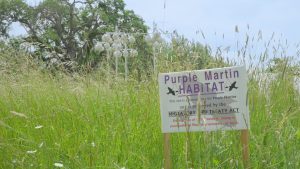 In the heart of the Pacific Northwest, amidst the bustling commerce that defines the Port of Vancouver USA, cheerful chirps filled the air this summer as purple martins returned to nest once again.
This year was special for these rare migratory birds who visit the port's wetland area. In past years, volunteers under a federally issued permit carefully placed individually numbered bands on each hatchling to track movements, longevity and migration patterns.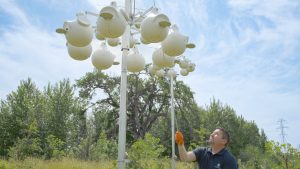 In 2023, however, the banding process was deemed no-longer-necessary by the state's wildlife agency based on the positive results researchers were seeing.  
This success was the culmination of much collaboration, study and hard work between organizations throughout the Northwest  For the past 12 years, the port has partnered with  bird experts and  to increase Southwest Washington's purple martin population.  Each year an increasing number of these charming aerial acrobats, with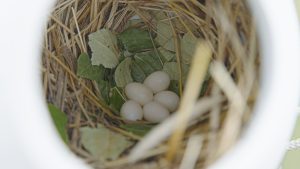 their iridescent plumage and melodic songs, have found an unlikely sanctuary within the port's .
What began as 16 avian-friendly structures that replicate the natural nesting cavities preferred by purple martins has doubled to the 32 in use today. A once modest colony of pioneers has burgeoned into a thriving avian community with more than 60 birds successfully hatching at the port this year.
At first, the birds were slow to accept the man-made refuge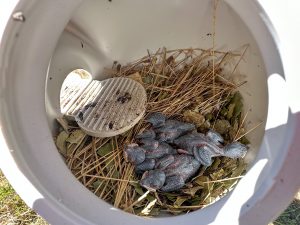 as swallows had taken over the gourds. A complete redesign of the gourds in 2016 allowed the purple martins to colonize and flourish in the area.
"The port is excited to see such a great improvement in the population of purple martins year over year," said port Environmental Manager Matt Graves. "Although we will not be banding and tracking in the years to come it is great to know it is due to the success of the program throughout the state."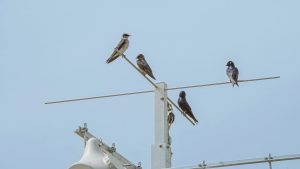 The purple martin sanctuary at the port is a testament to the notion that progress and preservation can indeed coexist. This success story is just one of the many examples of the port responsibly managing its natural resources.
Learn more about the port's environmental programs in its Sustainability Report and Climate Action Plan.