Port Adds New Electric Vehicles to Its Fleet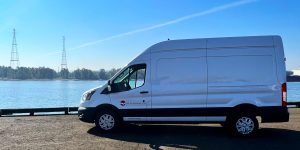 The port's vehicle fleet is changing! As outlined in its climate action plan (CAP) and in an effort to lower greenhouse gas (GHG) emissions, the port has begun replacing vehicles with electric models. Two Ford electric E-Transit vans were delivered in September for use by the facilities department's plumbers and electricians. These vans are electric powered and replace gasoline vans previously in use by the maintenance crew.
Earlier this year, the port received its first all-electric Polaris Ranger all-terrain vehicle (ATV). This vehicle replaces a John Deer gas-powered Gator previously used by the facilities team. The new vehicle is utilized in several tasks including rail inspections and grounds and landscape maintenance. With enough battery power to last an eight-hour shift, crews can plug it in overnight and it's ready to go again in the morning! The 30HP engine allows for 1500lb towing capacity which is perfect for towing a small utility trailer. The two-seater ATV has higher ground clearance than the previous Gator, allowing more versatility in for port crews' work. At a cost of just over $19k with tax, it's a more affordable option than a work truck.
The port has six electric Ford Lightning pickup trucks currently on order and is looking forward to integrating these zero-emission trucks into the fleet. They will be used by facilities, terminal operations and security departments. To accommodate the increased need for charging, planning is underway for additional charging infrastructure at multiple port locations including publicly accessible fast chargers at the administration building.
Electric vehicles can have significant benefits over conventional vehicles as they produce zero tailpipe emissions. Switching from conventional vehicles to electric vehicles reduces carbon emissions and smog-forming air pollution. In addition to air quality benefits, transitioning from gas-powered vehicles to electric will result in lower operational costs for fuel expenses, lower maintenance costs and is a health benefit to the community.
The port is working to replace its existing vehicle fleet and equipment with electric or hybridize diesel and gasoline-powered options and install electric vehicle charging infrastructure by 2035 as detailed in the CAP. This is just one of many steps the port is taking to become carbon neutral by 2050.