Promoting Habitat Diversity While Protecting Property at Terminal 4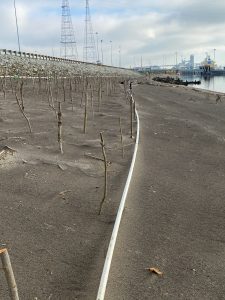 In 2022, the port completed the Terminal 4 Bank Stabilization Project for the purpose of providing an ecologically sensitive, long-term solution to bank erosion that had been occurring at the site.  Terminal 4, where the port's tenant Subaru is currently located, was constructed in 1994 without any riverbank protection from high water events.  Since that time, the slope of the bank had eroded significantly and upland infrastructure was at risk of being damaged.
In designing a long-term solution to address the erosion, the port worked closely with our environmental regulatory partners to include ecological benefits.  These included:
Maximizing beach habitat
Removal of invasive species
Installing a diversity of native plants appropriate for the Columbia River shoreline
Providing aquatic habitat preferred by juvenile salmonids
Ultimately, over 2,000 native trees and shrubs were planted including Cottonwood, Dogwood, Douglas Spirea and a variety of Willow species.  The port looks forward to continued collaboration with our environmental partners on the habitat improvements. We will continue to monitor and maintain the site for continued success into the future. For more information on additional habitat efforts, visit the port's Habitat Management page.