Welcome aboard to Rocket Delivery!
A part of the Vancouver community since 2006, Rocket Delivery Inc. is one of the newest tenants to take up residency at the Port of Vancouver USA.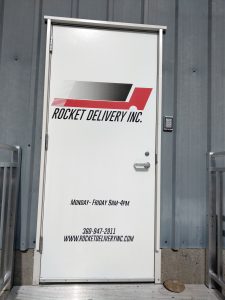 Specializing in logistics for local residential and businesses, Rocket Delivery provides final mile delivery services throughout Vancouver and the surrounding areas. From receiving or picking up your items, to delivering and installing them, Rocket Delivery does it all. Common residential delivery items include home gym equipment, appliances, furniture and cabinets.
In August 2020, the port's board of commissioners approved a three-year lease with Rocket Delivery. With over 10,200 square feet of warehouse space, the lease also includes parking at the rear of the building for employees and the company's small fleet of cargo vehicles. This space recently underwent facility improvements including new energy efficient lighting that will help "brighten" the workday.
"The port is thrilled to welcome another local company to our family of tenants," said port director of business development Mike Schiller. "We're excited to be a part of Rocket Delivery's next steps in expanding their business."
The next time you have a logistic need in Vancouver and beyond be sure to reach out to your local specialist, Rocket Delivery, at https://rocketdeliveryinc.com/.