Port of Vancouver USA Welcomes First Tenant of Life Sciences Technology Building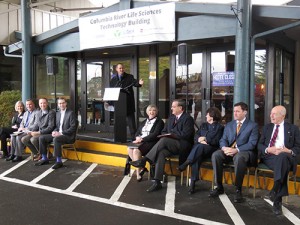 In a collaborative effort between the Columbia River Economic Development Council (CREDC), Governor Inslee's Strategic Reserve Fund and the Port of Vancouver USA, a rapidly growing regional biotechnology company has found a home at the now-unoccupied former Red Lion Hotel building at the Quay.
The port and CREDC announced Monday that a lease has been signed with AbSci LLC to occupy a portion of the former hotel building on the port's waterfront property.  The port will renovate a portion of the hotel into the first dedicated life sciences technology lab space in Southwest Washington, allowing AbSci the flexibility to expand and greatly increasing the region's ability to attract additional companies in this sector.  As a reintroduction to the community, the office and lab space that AbSci will occupy will be named the Columbia River Life Sciences Technology Building. 
"We are very excited to have AbSci as a new tenant on our Terminal One property," said Port of Vancouver CEO Todd Coleman.  "We are grateful for the help of CREDC, Governor Inslee and Senator Cleveland in bringing a new industry and economic development to Southwest Washington."
Washington State Governor Jay Inslee has promoted a sector-driven approach to economic development to grow key industries, including the life science and global health sector. 
"With some of the most exciting, leading-edge research and development happening right here in our state, Washington is poised to become a world leader in the life sciences and global health sector," said Governor Inslee.  "The creation of this lab space to house an exciting biotech company with huge growth potential is a great first step in strengthening the competitiveness of the sector in Southwest Washington." 
The project would not have been possible without the support of a grant from Governor Inslee's Strategic Reserve Fund, which Washington State Senator Annette Cleveland was instrumental in helping to secure. 
"This kind of bold step forward is good news for our state, for our community, and for this region.  I'm also excited to see a building that has been such a notable part of Vancouver's past being repurposed to play a key role in our future," said Senator Cleveland.  "Vancouver offers a world-class level of higher education, health care and quality of life.  Being home to this cutting edge company focused on innovation and solutions for the future is a perfect next step for our community.  This is a pivotal moment for our community and an exciting step forward."
Life sciences and global health represents the fifth largest employment sector in Washington State, supporting over 36,000 direct jobs and nearly 62,000 indirect jobs, and contributing $12.5 billion to the state's gross domestic product (GDP). 
"With the enormous potential for growth and proportionately high economic benefits, industries within the life sciences sector are a natural target for recruitment and expansion," said CREDC president Mike Bomar.  "With our strategic location and the combined assets of our partners, we believe our region is uniquely well-positioned to become a premier biotech and life sciences hub." 
AbSci, which was formed in 2011 in Portland, Ore. has seen consistent growth over the years.  The company recently hired its tenth employee and projects to expand to 50 by 2020.
"AbSci's expansion in the region is a testament to OTRADI's impact in successfully guiding promising bioscience startups," said Greater Portland Inc president and CEO Janet LaBar.  "The company's emergence out of the Bioscience Incubator and into permanent lab space means the region maintains terrific bioengineering jobs and signals momentum of an increasing industry footprint."
The company's rapid growth is attributed to the significant industry interest and development in the company's proprietary protein manufacturing platform, SoluPro™.  AbSci's technology substantially reduces the production costs of therapeutic proteins and antibodies, which are used in a wide range of medical treatment plans, including those for cancer, and hormone therapies, diabetes, and autoimmune disorders.
AbSci is partnering with pharmaceutical companies to bring down the cost of these next generation therapies and to make them more accessible to the population at large.
"With the company's growth, we needed to find a home that would allow us to continue to expand," said AbSci CEO and founder Sean McClain.  "We are excited to be the first tenant of this new facility, and we believe there will be a great deal of demand for this space from companies similar to ourselves."
About The Port of Vancouver USA
The Port of Vancouver USA is one of the major ports on the Pacific Coast, and its competitive strengths include available land, versatile cargo handling capabilities, vast transportation networks, a skilled labor force and an exceptional level of service to its customers and community. www.portvanusa.com 
About CREDC
Serving Clark County since 1982, CREDC is a private-public partnership of 140 investors and strategic partners working together to advance the economic vitality of Clark County through business growth and innovation.  Through collaborative leadership, the CREDC promotes job quality and capital investment while maintaining the County's exceptionally high quality of life.  www.credc.org 
About Greater Portland Inc
Greater Portland Inc (GPI) is a regional partnership helping companies expand and locate to the Portland-Vancouver area, which includes seven counties and covers two states. Leveraging the region's assets, GPI and its partners work in lockstep to nurture and recruit businesses that bolster Greater Portland's economy and promote long-term job growth. www.greaterportlandinc.com