Port of Vancouver USA CEO Julianna Marler recognized with 2018 Iris Award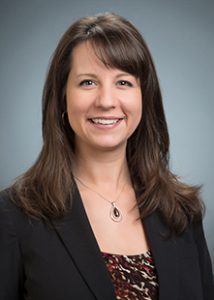 VANCOUVER, Wash. – Port of Vancouver USA CEO Julianna Marler is being recognized for exceptional leadership with a 2018 Clark College Iris Award. Marler and three other local women of distinction will be honored at an awards reception on International Women's Day, March 8.
Throughout her 10 years and in multiple leadership positions with the Port of Vancouver, Marler has helped move the port through challenging times, including organizational growth, economic changes and public and political challenges. She has earned the trust, respect and support of community leaders and port staff, constituents and tenants.
"Through everything the port's experienced over the last few years, Julianna has been a steadying and uplifting hand, leading the port team, building on our partnerships and keeping everything running smoothly as we grow," said port commission President Eric LaBrant. "We're very fortunate to have her at the helm and proud that she's being recognized for her hard work."
"I would like to congratulate Julianna on being an Iris Award recipient," said Vancouver Mayor Anne McEnerny-Ogle. "This award recognizes Julianna's contribution and dedication to advancing economic development and success in our city."
"The Greater Vancouver Chamber of Commerce benefits greatly from the insight and perspective Julianna brings to our Board and we are delighted with the recognition of her with this year's Iris Award," said Chamber CEO John McDonagh. "Julianna has spent most of her career as one of our community's quiet leaders, working diligently out of public view but nonetheless contributing significantly to the community during her time with the City of Vancouver and continuing that diligence at the Port of Vancouver."
The Port of Vancouver and its tenants generate $2.9 billion in annual economic benefit, provide 3,200 direct jobs and support an additional 20,000 jobs in the community. Marler leads this economic engine, and the port is improving and marketing industrial land; partnering with sister ports in Clark County to attract more employers and jobs; and partnering with the City of Vancouver to transform the downtown waterfront into a destination for locals and visitors alike.
About the Iris Awards
The Iris Awards follow in the tradition of the Southwest Washington Women of Achievement Awards, which began in 1985 at Clark College. In 2012, the event was reintroduced as the Iris Awards, still celebrated on or around International Women's Day and with the same core mission: honoring the lasting and far-reaching contributions of women in Southwest Washington and beyond.
– POV –
The Port of Vancouver USA is one of the major ports on the Pacific Coast, and its competitive strengths include available land, versatile cargo handling capabilities, vast transportation networks, a skilled labor force and an exceptional level of service to its customers and community. For more information, please visit us at www.portvanusa.com.