Port of Vancouver USA selects hotel, mixed-use developers for Terminal 1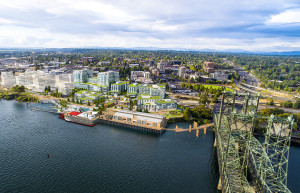 VANCOUVER, Wash. – The Port of Vancouver USA has selected Vesta Hospitality of Vancouver, Washington, as the preferred hotel developer for the port's Terminal 1 property. Holland Partner Group, also of Vancouver, Washington, was selected as the preferred master developer of a mixed-use complex for Terminal 1 which could include office, retail and residential.
"We are pleased to work with such high-quality, local companies that truly understand the importance of the Terminal 1 property," said port CEO Todd Coleman. "We received top-notch interest in both the hotel and master developer Requests for Qualifications, and we're fortunate that the two best proposals came from local talent with superb national reputations. We look forward to collaborating and moving forward with a shared vision."
Vesta Hospitality's proposal, led by Rick Takach, included a number of highly attractive features to the port, including the desire for long-term ownership, strong financing, high-quality and sustainable building standards, and a desire to build a community asset. Vesta proposes to build an AC Hotel by Marriott, a European-inspired lifestyle brand, which will complement the rest of the Terminal 1 development and be a stunning addition to the city and the waterfront.
The Holland Group, led by Clyde Holland, is a fully integrated real estate investment company developing large scale mixed-use projects in Seattle, Hillsboro, Oregon, Los Angeles, San Diego and Denver. Their proposal offered a number of options to build on the Terminal 1 property, emphasizing sustainable, high-quality facilities and a community vision.
Next steps
The hotel and mixed-use developers will work in collaboration with the port and its consultant, NBBJ, to complete the Concept Development Plan (CDP) and Development Agreement with the City of Vancouver. NBBJ was selected to create a CDP for submittal of a comprehensive permit package to the City of Vancouver at the board's April 26 meeting.
In addition to collaborating on the CDP, the port and its preferred developers will negotiate a development agreement that will be considered by the port commission at a future meeting.
About Terminal 1
The Port of Vancouver USA is redeveloping a 10-acre site it owns on the Columbia River. Known as Terminal 1, the site is the port's birthplace and home to its first warehouse, built in the 1920s through a partnership with the City of Vancouver. During redevelopment of the site, the former hotel/warehouse is home to new brewpub Warehouse 23 and a biotechnology and life sciences building. When fully developed, Terminal 1 could feature a public marketplace, new hotel, retail and commercial office space, and visitor amenities.
– POV –
The Port of Vancouver USA is one of the major ports on the Pacific Coast, and its competitive strengths include available land, versatile cargo handling capabilities, vast transportation networks, a skilled labor force and an exceptional level of service to its customers and community. For more information, please visit us at www.portvanusa.com.