Annual Tenant Breakfast includes Terminal 1 tour, project updates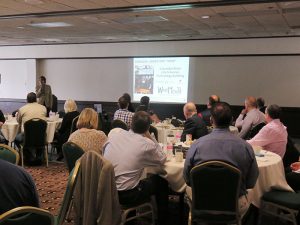 More than 40 professionals from Port of Vancouver USA tenant businesses gathered at Terminal 1 Wednesday morning for our annual Tenant Breakfast.
The event included a tour of the former Red Lion hotel, which is being repurposed as biotechnology lab space, and WareHouse '23, the new restaurant and event venue by local restauranteur Mark Matthias.
The WareHouse catered breakfast, serving piping-hot breakfast burritos with homemade salsa fresca, platters of fresh fruit and vanilla yogurt parfaits.
Port Director of Business Development Mike Schiller kicked off the event with a presentation about construction projects in Centennial Industrial Park (CIP), the port's light-industrial development on Lower River Road. Sunlight Supply Inc./National Garden Wholesale is currently constructing its 306,000-square-foot world headquarters, and the port is also planning to break ground on a 125,000-square-foot industrial building this fall.
The port is continuing to market the remaining 17 acres of ready-to-build property in CIP, which is ideal for light industry and advanced manufacturing. An adjacent 50 acres are also available for future expansion.
Director of Economic Development Katy Brooks was up next to provide background on Terminal 1 and the port's vision for the future of this unique property on the Columbia River. Work on shared biotech lab space at the Columbia River Life Sciences Building continues while the port seeks companies to join AbSci LLC and the growing life sciences sector in our region.
The port also recently announced its selection of preferred developers for a hotel and mixed-use facility at Terminal 1. We selected Vesta Hospitality of Vancouver to bring their vision for an AC by Marriott hotel to Terminal 1. Holland Partner Group, also of Vancouver, is our preferred developer for a mixed-use development that could include office, commercial and retail space.
Another exciting development this year is our application for a Foreign-Trade Zone. Inside Sales Representative Debbie Taylor, who has been spearheading the effort to establish an FTZ at the Port of Vancouver, provided details on the port's application and shared how an FTZ could benefit businesses throughout Clark County.
The port is also working on a number of capital improvement projects. Project Delivery Manager Alan Hargrave shared information on several, including projects to relocate rail lines, upgrade marine facilities and build a new labor support building. These projects will help our tenants move products more efficiently, improve the movement and storage of cargo at the port, and support our stevedoring and longshore partners in their work on the terminals.
Our annual Tenant Breakfast is an event we look forward to every year. It's a great opportunity to update our tenants on port initiatives and thank them for their hard work bringing jobs and economic benefit to the port and the community we all call home.